Riseoo- An affiliate marketing company for scaling growth!

Founded by Dr Vaibhav Adhlakha (Founder & CEO) and Dr Kshitij Adhlakha (Founder & COO)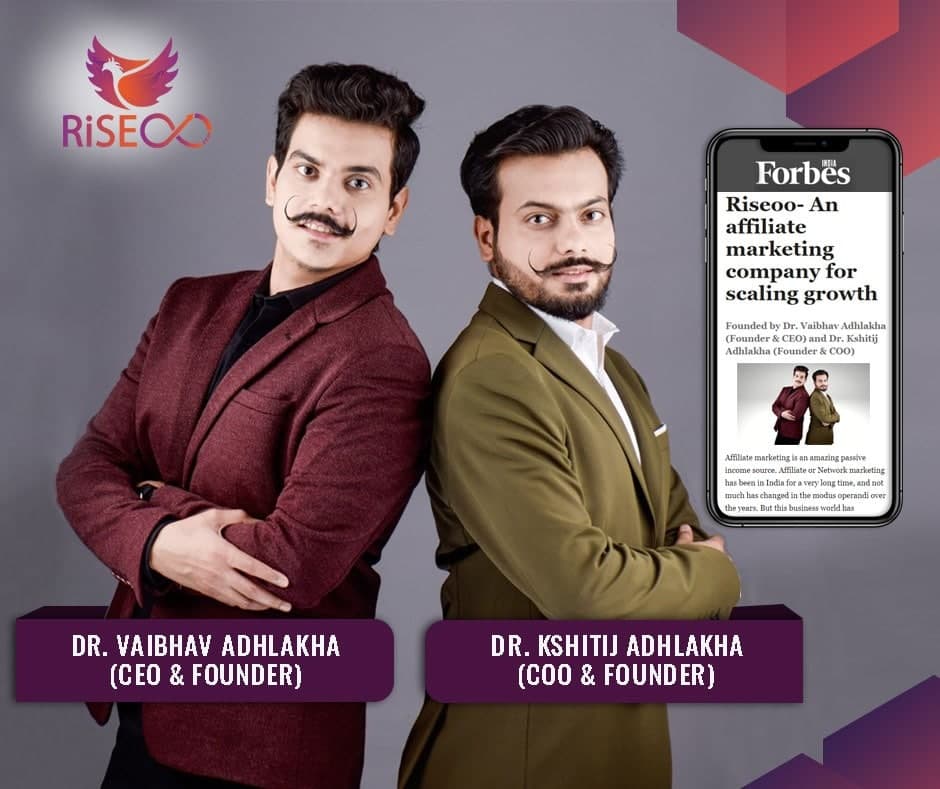 Affiliate or Network marketing has been in India for a very long time, and not much has changed in the modus operandi over the years. But today, technology plays a pivotal role in all industries, and the network marketing sector is not an exception. The role of technology in this segment plays a significant role that changes the entire ecosystem. One company, Riseoo, the new age affiliate marketing company, stands out because the whole business operates via a technology platform.
- Emergence as a New-Age Affiliate Marketing Company!
Riseoo is a new age Affiliate Marketing Company that provides wide earning opportunities to its potential partners. The brand has a unique business model that operates globally and has a stable income source by becoming a member of Riseoo. They provide several income opportunities, such as selling Riseoo Products, Eazme Memberships, and much more to the potential partners.
This company is rapidly spreading its wings around various countries globally, with its headquarters located at Noida. With more than 60 plus countries, people trust this brand for its authentic products and solutions. Being a new-age affiliate marketing company, it has created the highest-earning prospects for the associated people. That counted, and the unique business structure allows a consistent and assured income.
One of the most exclusive offerings of Riseoo for its associated partners is allowing the sustainable and enduring source of income from Eazme, which is a one-stop global marketplace. Various kinds of income streams with this company are selling Riseoo products, memberships of Eazme for the customers.
- Intuitive Role of Founders behind its Giant Success!
Riseoo was blessed to have its founders as two well-established and experienced industry professionals who have already proven themselves in the field of entrepreneurship. The founders, CEO Dr Vaibhav Adhalakha and COO Dr Kshitij Adhlakha have their dominant presence in the market for a decade.
With their long ride of entrepreneurship in cybersecurity and their rich work experience to assist companies like Vodafone and Comviva with the data security needs, they have simplified the initial challenges of Riseoo to a great extent. Their entrepreneurship expertise and endeavour has proven as a great privilege for Riseoo. Their connections with great industry experts have aided in promoting the brand around the landforms for a brief period.
- Journey from foundation till the accomplishment of Goals!
It was never easy for Riseoo to enter into the customer's heart as many companies working in the affiliate marketing sector. Riseoo is quite good at the trust-building process by offerings attractive opportunities for its partners. Consistency in its services and great earnings with assured results has always worked as its backbone.
The best thing about Riseoo is that its founders promote the brand themselves on their name that creates the difference between this affiliate marketing brand and others. They encourage and market the brand by coming to the forefront and discuss business opportunities using their golden experience and former associations. While in other companies, people even don't know the name of the operating officers.
Four pillars define the GOAL of Riseoo, namely, Genuine, One team, Affiliate-partners first, and Longevity. Transparency is another important feature of the company that inspires its associates to have complete trust over it. Riseoo covers countries like Asia, Europe, the US, and more than sixty countries. Hence, associated partners get diverse business opportunities around the globe and attain financial self-dependency.
- Brand Promotion Using Effective Marketing Initiatives!
As a people-driven brand, a massive number of events are performed each year for promoting the brand and products of Riseoo. Such events are happening for building new connections and exploring more business opportunities across the globe. The brand has also initiated digital marketing efforts for connecting its partners on social media platforms. Such marketing tactics help an affiliate marketing business to attain sustainable growth in the industry.
- Great Rewards and offerings for Associated Partners!
At Riseoo, the associated partners receive numerous benefits along with steady and assured income. Some common sources of earnings are selling Riseoo products, Eazme memberships, and other various aids. They get an excellent opportunity to enrich their lives and upgrade their living standards by fulfilling their life's dream that was hard to achieve without the partnership with Riseoo. Additionally, they get lifestyle rewards and travel opportunities as a sign of acknowledgement.
- Plans and Prospects to Thrive at Affiliate Marketing Field!
Riseoo has an overflowing number of great industry professionals, as associations are a big plus for this brand to flourish. There is a scope for impending partners at an international level willing to join the Riseoo team. Thus, one can expect a promising future in the upcoming years for this brand.
The company firmly believes that an organization's success lies in its employees' enrichment. Thus, it mainly aims to make the life of its associated people better in every way and raise their living standards along with fulfilling their life's best dreams.
Stay healthy & strong, everyone,
Maikel Andres
New-Age Affiliate Marketer
Riseoo - Eazme
P.S.
- You prefer the German Language? No Problem! Here you´ll find German!
- In case of questions, WhatsApp me on https://wa.me/34603186802